One of the biggest challenges with advancing your education is that the financial investment can be significant. Financial constraints not only stop people from enrolling but can even force them to leave school before finishing their degree.
In fact, nearly 15% of students are more than three-quarters into their required credits before they must drop out, often because of financial limitations.
So, you may be wondering, are there scholarships for adults who want to finish their degrees?
Yes, there are many financial aid options available to working adults who are enrolling in a degree completion program, such as grants, scholarships, and student loans.
If you're on the fence about finishing your degree and are concerned about paying for it, then keep reading for information about financial aid that's available for adults who want to return to school
Grants vs. Scholarships: A Refresher
When you're researching the financial aid options that may be available to you, you'll see all kinds of different terms, such as grants, scholarships, and loans.
But what are each of these, and what do you need to know about grants vs. scholarships vs. loans?
A grant is a form of financial aid that does not require repayment. It typically comes from state or federal funding and is often designated for specific use (such as student housing) or a specific area of study.
Scholarships, like grants, do not need to be repaid. They're created specifically for educational purposes to make earning a degree more affordable. Most often, they'll come from the school you're attending and are typically given for academic performance, experience, or on a need-based basis.
Finally, a student loan is money that you borrow from a lender that you'll have to pay back. You can borrow money either through federal student loans or private student loans, from a bank or credit union.
A financial aid package from your institution will often include a combination of each of these to help make college more affordable. Click here to learn more about financial aid offered in the state of Tennessee.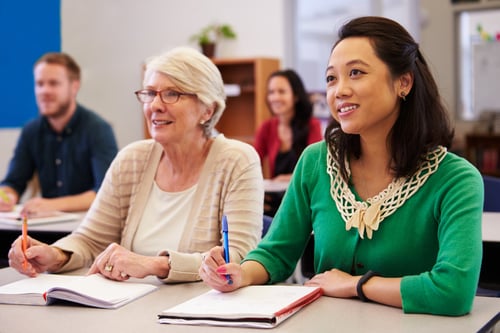 Tennessee Scholarships and Grants for Adults
Now that you've got a basic understanding of how all of these forms of financial aid work, let's talk about what types of grants and scholarships are available for adult degree programs in Tennessee.
The good news is that many degree completion scholarships were specifically created for working adults. Schools know how challenging it can be to go back to school as an adult when you've got to balance your career, family, and other responsibilities. So, they want to make this journey as accessible as possible for people like you.
Here at Southern, we support many different Tennessee school grants and scholarships for adults as part of our tuition. Here are a few:
What is the Tennessee HOPE Scholarship?
If you've been out of college for more than two years, you may be eligible for the HOPE Scholarship for nontraditional students. You must be a Tennessee resident and at least 25 years of age. Learn more about the HOPE scholarship details and eligibility requirements.
Federal Pell Grant
The Federal Pell Grant is awarded to students who come from low-income backgrounds and need financial assistance. Eligibility and grant amount will depend on your financial situation and academic status. To see if you qualify, visit the Federal Pell Grant webpage.
For a full list of tuition and financial aid information available at Southern, see our Tuition Overview.
Do you have prior life experience?
Learn more about Credit for Prior Learning.
Military Scholarships at Southern
We understand that military personnel and their families have unique challenges when it comes to furthering their education, which is why Southern is proud to offer financial aid through the Tennessee Helping Heroes Grant.
To be eligible, you must be a current member or veteran of the US military or Tennessee National Guard. You can earn $1,000 per semester if you're enrolling in 12 or more semester hours, or $500 per semester if you're enrolling in 6 to 11 semester hours.
To learn more about eligibility requirements and the application process for the Helping Heroes Grant, visit the Helping Heroes webpage.
If you have more questions about grants, scholarships, and other financial aid available here at Southern, we invite you to visit our Tuition Overview page or talk to our Admissions office.
Thinking about going back to school to finish what you started? Download our free guide, Take the Next Step: A Re-Entry Guide to Finishing Your Degree.
In this helpful resource, you'll get insights into:
Determining if you should finish your degree
Picking the right degree completion program
Learning more about your financing options
You can also connect with the Director of the Adult Degree Completion Program here at Southern to talk about the types of financial aid that may be available to you. Schedule time on her calendar below!