If you're thinking about going back to school, you're probably wondering if you'll be able to juggle your courses on top of your work, family, and other responsibilities.
We totally understand that—these are concerns we hear quite often. However, the truth is that you don't have to put your life or career on hold to finish your degree.
In fact, while it may be challenging, going back to school as an adult is a commendable and worthwhile endeavor. It's not easy to do, especially the older you get, but investing in your future is always a good idea.
If you're nervous about finishing your degree while working full-time, don't be. We'll show you how to get it done—and what you need to take into consideration to be successful.
Is it Possible to Get a Degree While Working Full Time?
First of all, yes, it is!
Finishing your degree might seem like a daunting task—and it can be—but it's definitely doable and is actually something that working adults do all the time. If others can do it, so can you.
Whether you're exploring this option because you want to change jobs, earn a promotion, or get a pay raise, finishing your degree is a great way to take your career to the next level.
Perhaps the biggest obstacle you may be worried about is your schedule and how you're going to be able to fit school into your already busy life. However, the good news is that bachelor's degree programs for working adults are specifically built to cater to working professionals like you. Most programs offer a choice of in-person, online, or hybrid (part in-person, part online) so that you can find the approach that suits you best.
For example, many programs typically offer classes in the evening, occasional weekends, and even asynchronously online so that you won't have to take any time off your 9-5 schedule to finish your degree. Whatever your schedule needs are, you'll be able to find one that meets it. Some programs even offer week-to-week scheduling; if your hours change, you can do online one week and in-person the next.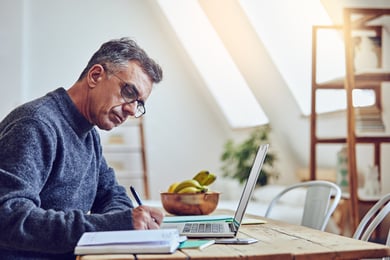 That's the kind of flexibility you should be looking for when exploring your program options. Whatever keeps you busy, whether it's your family, your job, or anything else in your life, you shouldn't have to sacrifice them to finish your degree.
The best programs will also have solid support teams that will help you cross the finish line. Talk with your friends and family. Let them know about your plans and ask for their support. Let your employer know too—they may be able to offer a modified or flexible schedule to help you balance your responsibilities.
Accelerated Degree Programs for Working Adults
What if you not only want to finish your degree, but you want to do it quickly?
Accelerated degree programs are a great choice if you're ready to devote more of your time and energy to get across the finish line quickly. Of course, this requires a much heavier commitment on your part, but this may be the route for you if finishing your degree quickly is your top priority.
For example, instead of a typical 16-week program, you could be looking at a six to ten-week program with a much more condensed workload. Rather than taking one course at a time while working during the day, accelerated programs often involve taking two to three courses at the same time to speed up the process.
If your life situation is in a place where you can make that level of commitment (and maybe make some sacrifices in your hobbies and sleeping schedule!), then an accelerated program could be the right fit for you.
It's worth noting that accelerated programs typically have higher levels of requirements to be accepted, such as a minimum credit hour, an associate degree, or applicable work experience. So, be sure to keep that in mind as you do your research.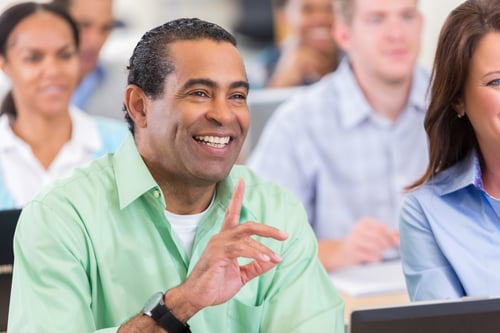 Tips for Finishing Your Degree
As you're wondering if you can complete your degree while working full time, you also probably have questions about some of the obstacles you'll face along the way.
Finding a program that aligns with your interests is one thing, but perhaps the biggest challenge is finding one that you'll actually finish. Here are a few "gut-check" questions you should be asking yourself:
Can I handle this?
The time commitment is significant and will require you to find the work/life/school balance that works best for your and your family.
Can I afford it?
Adult degree completion programs are much more affordable than traditional programs, but they're still a financial investment.
Is now the right time?
When you take into account all of the factors in your life right now, is now the best time to pursue this?
For more tips, guidelines, and best practices for finishing your degree, check out our free resource: Take the Next Step: A Re-Entry Guide to Finishing Your Degree
How to Find Adult Degree Programs in Your Area
If you're looking for an in-person or hybrid program, you're obviously going to need to find something nearby and easy to commute to.
One challenge is that the schools in your area may be convenient, but they're not necessarily a high-quality program or the right fit for you.
Obviously, you can search terms like "adult degree completion programs near me." However, it's still important to do your due diligence to make sure that these programs have a good reputation, check all the boxes for you, and have the support system you'll need to get it done.
If you live in the Great Chattanooga/Tennessee Valley area, then you should consider Southern's Degree Completion program.
Here at Southern, we offer affordable and flexible programs for working adults who want to finish their degrees without putting their lives on hold.
With both in-person and hybrid learning options, you'll have the flexibility and convenience to finish your degree in the modality that works best for you. We have programs for Business, Communications, and Integrative Studies, so you can find the one that's right for you.
Don't put your future on hold. To learn more about finishing your degree with Southern, schedule some time with the Director of the Adult Degree Completion Program below!