Introducing: A Guide to Jumpstarting Your Data Analytics Career
Have you thought about getting into the IT field but aren't sure where to start? Computing and IT jobs are growing at a faster rate than all other occupations, but you may feel like it's not for you if you don't have much of a technical background.

But with the right data analytics skillset, you can break into the IT field regardless of your current technical experience level.

To help you realize this opportunity, we created this guide, How Data Analytics Can Jumpstart Your Career. In this online guide experience, you'll get up to speed on what data analytics is, why it's so important to a range of industries today, and how you can create a lasting career even if you're starting with little technical know-how.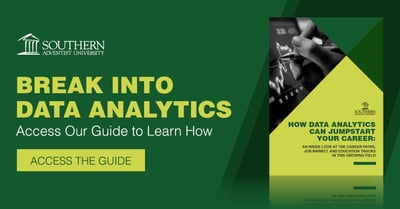 Whether you're currently pursuing an IT career or just weighing your options, our guide offers a comprehensive look at the demand for data analytics — and fast track options leveraging data analytics that can help you break into IT.
Why Should I Download the Guide?
By downloading this extensive resource, you'll get tons of actionable insights and inside info, including:
A better understanding of data analytics
How data analytics is used in business today
Salary expectations for entry-level, mid-level, and senior data analyst roles
An action plan for pursuing a career in data analytics
Why Southern's MS in Applied Computer Science is the ideal avenue for you to advance your education and land your dream job in data analytics
Whether you're already considering a job in data analytics or you're just getting started, this guide will set you up with an action plan to help you break into the IT field through data analytics. Get free access to the guide today!