Computer Science Degree vs. Applied Computer Science
If you're looking to create a successful information technology (IT) career for yourself, then you've probably done the research and realized that earning a graduate degree in computer science is a great way to get ahead.
But what's the difference between computer science and applied computer science, and which one is right for you?
Whether you've already begun your IT career or are just getting started, this blog post will help you understand the differences and how to determine which path is right for you.
The Benefits of Getting an MS in Computer Science
If you're an IT professional who's looking to take your career to new heights, then earning an MS in computer science is a great path to take.
Not only will you increase your earning potential (Southern's graduates earn an additional $12,000-$20,000 per year!), but you'll have the chance to take on more responsibility and become an IT leader within your organization.
MS in computer science programs will teach all-new concepts at a theoretical level, exposing you to new areas you may not have learned about in your undergrad studies or on the job.
You'll gain knowledge and expertise in advanced topics like software design and development, network security, data analytics, and algorithms. Most computer science master's degree programs have a core curriculum plus a list of electives to select from, giving you the chance to pursue what interests you most.
Learning these advanced topics will open up new paths for you to specialize in one particular area. Focusing on one core topic within computer science that interests you—say, operating systems—will give you the chance to become the go-to person in your organization for that area.
With that advanced knowledge under your belt, it's easy to see how you'll increase your earning potential and value within the organization.
Earning an MS in Applied Computer Science
On the other hand, an MS in applied computer science focuses less on the definitions and theory of these concepts, and more on their real-world application.
Earning a degree in applied computer science will prepare you to take these computer principles and technologies and use them to solve problems that businesses face every day.
At a time when businesses are relying more and more on technology, data security, and analytics, there's an extremely high demand for people with these technical skills. Employers place a TON of value in people who can solve these types of problems, and that's exactly what an MS in applied computer science will help you do.
What's cool is that many of these MS in applied computer science programs are designed to help non-IT people break into the space. You don't need to have an undergraduate degree in computer science or have a career in IT to thrive in these programs. They'll help you understand these concepts and be ready to put them into practice right away.
With an MS in applied computer science under your belt, you'll have many different career paths you can choose, depending on the function and the industry that interests you most. The average salary across the board is $103,940, so you can see the earning potential that this degree can help you achieve.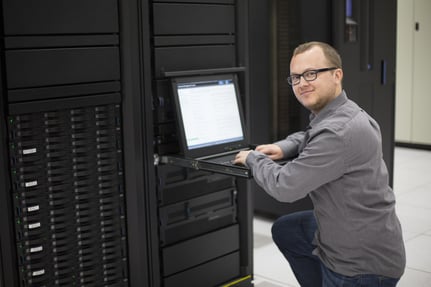 Computer Science vs. Applied Computer Science: How to Know Which is Right for You
Now that you've learned a little more about computer science and applied computer science, how do you know which is right for you?
Ultimately, it's about where you're starting from.
So, the first question you should ask is this: what's your current technical experience?
If you have solid computer skills, already have an established IT career, and are maybe looking to get recertified, then you probably want to explore programs that offer an MS in computer science.
These degrees are designed for IT professionals looking to level up their expertise and advance their careers, whether that's getting a promotion, expanding their certifications, or simply taking on more responsibility. If you're already experienced in IT, the applied computer science degree might not provide a lot of information that you haven't already learned on the job.
If, on the other hand, you don't have any prior IT experience and you're looking to break into the field, then an MS in applied computer science is the way to go.
Many students in applied computer science programs get exposure to the IT department within their organization and take a strong interest. To move into an IT role, they enroll in a graduate program where they learn key skills like data analytics, web development, or network security. If this sounds like you, the MS in applied computer science may be the right path for you as well.
With an MS in applied computer science, you'll learn practical applications that companies are looking for and place a ton of value in, making you a very desirable candidate across a range of industries and career trajectories.
Applied Computer Science at Southern
If you're exploring your options for either degree in the Greater Chattanooga area and beyond, then check out Southern Adventist University.
Our brand new applied computer science program will help you break into a career in IT and doesn't require an extensive technical background in order to be successful. If you're interested in getting an IT job but aren't sure where to start, check out our program page to learn more.
You can also download our free guide, How Data Analytics Can Jumpstart Your Career. In this extensive resource, you'll learn why data analytics is a strong career path within the IT field and why so many companies are hiring data professionals.