How to Become a Data Analyst in 2022
Have you ever considered a career in data analytics? If you love numbers and are looking to make a change in your career, then the path to your dream job is actually much closer than you think.
Data analysts turn raw data into organized, meaningful information that influences business decisions at the highest level. Whether you want to work for a local business or travel internationally for a Fortune 500 company, the need for data analysts has never been stronger.
How to Get a Data Analyst Job
There are many different paths that can get you on the way to becoming a data analyst, but it's important to note that earning a degree is the fastest way and offers you the most potential in terms of salary and upward mobility.
Most often, data analysts first get their bachelor's degree in something that emphasizes statistical and analytical skills, such as Math or Computer Science.
However, that's not always the case. For example, as companies continue to value data analytical skills more and more, many people are taking an accelerated path by earning an advanced degree in Computer Science with a concentration in data analytics.
Between earning a degree and the industry-specific certification you can pick up along the way, the career possibilities will seem endless.
A path like this makes you well-versed in the four main categories of data analytics:
Data Mining

Data Management

Statistical Analysis

Data Presentation
These are extremely marketable skills that employers find irresistible in industries like insurance, healthcare, manufacturing, logistics, retail, finance, and energy, just to name a few.

Real-World Applications of Data Analytics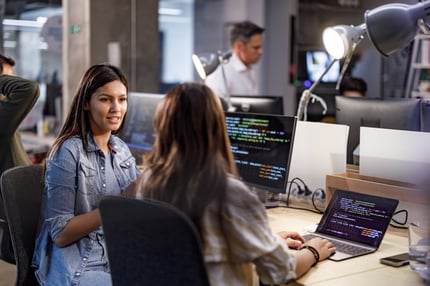 Data analytics lives at the crossroads of IT, statistics, and business. Every day, businesses around the world rely on business analysts to combine these skill sets to interpret data in a way that increases efficiency and improves business performance.
So, it's not hard to see why it's such a valuable role in any organization.
What does that mean for you, though?
Before you pursue a career in data analytics, you first want to better understand the current career landscape, the journey that gets you there, and which options are available to you. As we said, there's no single route to becoming a data analyst and many potential pitfalls along the way if you're not careful.
You also should consider whether you want to learn about computer science vs. applied computer science - read more about that in our blog!
On top of that, you also need to understand that this journey is going to be WORTH it. What are the salary expectations for data analytics professionals, what career trajectory options would be available to you, and what kind of investment of time and money will it require to take that journey?
Download Our Data Analytics Career Guide
To get answers for all of these questions and more, download our guide, How Data Analytics Can Jumpstart Your Career.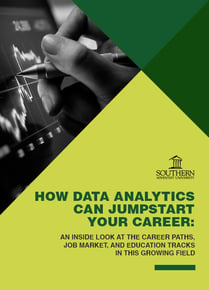 In this extensive resource, you'll get tons of insights and inside info, including:
A better understanding of data analytics and how it's used in business today

Salary breakdowns of key data analyst roles

The first steps you should take to pursue a career in data analytics

Why Southern's MS in Applied Computer Science is the ideal avenue for you to advance your education and land your dream job in data analytics
Whether you're already considering a job in data analytics or you're just getting started, this guide will set you up with an action plan to help you break into the data analytics field.