How to Become a School Counselor
Being a school counselor is a rewarding and worthwhile career. Every day, you'll be able to make a real difference in shaping the lives and journeys of your students.
School counselors are employed at elementary, middle, and high schools to help students with academic planning, goal setting, ongoing support, and improving student outcomes overall.
The role of school counselors has evolved over the years, but one thing has remained consistent: their commitment to student success.
But how exactly does one become a school counselor? What does that journey look like?
Steps to Becoming a School Counselor
Every path is different, but generally speaking, the road to becoming a school counselor involves a combination of graduate degrees, state-specific exams, and acquiring your license.
Follow these steps to become a school counselor:
1. Earn a bachelor's degree.
You can become a school counselor with almost any four-year undergraduate degree under your belt. However, it's in your best interest to earn a bachelor's degree in a field that's relevant to counseling, such as psychology or education.
Keep in mind that some graduate programs may require applicants to take specific undergraduate behavioral science courses, in order to qualify for the program.
2. Earn your master's with a school counselor degree program.
After you've completed your undergraduate degree, the next step is to earn your master's degree in counseling. School counselor degree programs may vary. For example, some schools may offer a specific program for earning a Master of Science (MS) in School Counseling. Others may be designed as an MS in Counseling and let you focus on school counseling as a specific area of emphasis. Both of these programs would put you on the right track to becoming a school counselor.
If you're looking for the flexibility of balancing your career with your education, consider getting a school counselor degree online. Online programs offer increased flexibility for working professionals who want to earn a graduate degree without putting their careers on hold.
3. Complete a school counselor internship.
Enrolling in and completing an internship (or other accredited clinical experience) will be part of the requirements to complete your master's degree. It's a powerful way to learn firsthand what it takes to be successful as a school counselor and everything that the job entails.
Typically, each school's program page will list the required number of hours in the field. The best school counseling programs will build the internship experience right into the program and help place you in opportunities that align with your interests and career goals.
4. Pass the school counselor exam required by your state.
One of the school counselor requirements is to pass the state-specific exam where you intend on being employed.
Although largely similar, the exams are each unique and will require different study approaches and test-practice strategies.
The exams will test your knowledge of student needs and the role of a school counselor across topics such as understanding students, ethics, counseling techniques, and the application of educational-based guidance.
Your program will help prepare you for this exam, but you can also find practice tests and study guides online that will give you a sense of what's needed to pass.
5. Apply for your school counselor license.
Once you've earned your master's degree in counseling, the next step is to obtain your school counseling license or certification.
Like with the school counselor exam, it's important to understand your state's requirements when it comes to licensing and school counselor certifications. You can find a list of state certification requirements for school counselors here.
The application process typically involves filling out forms, providing transcripts and test scores, and paying a fee. Again, your program will likely help you navigate this process.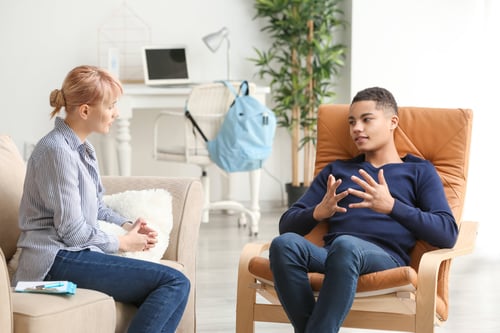 6. Apply for school counselor jobs.
By this point, you've earned your bachelor's and master's degrees, completed your internships, passed your exam, and acquired your license.
All that's left to do is start applying for jobs!
When looking for school counselor jobs, there are a few things you need to consider. Specifically: what experience do you have, and what are your career goals? Think about variables such as school size, location, job requirements, whether you prefer private or public schools, etc.
Across the United States, the average salary for school counselors is $54,913. For Tennessee, the average is $49,690. However, those numbers will vary depending on your level of experience and whether you're working in elementary, middle, or high school.
If you're looking to become a school counselor to achieve your personal and professional goals, then earning an MS in Professional Counseling will provide you with the required education.
Download our guide, An Inside Look at Southern's Value-Based MS in Professional Counseling Programs, to get a better understanding of:
What it takes to be successful in a school counselor role
Your potential career outlook with a graduate degree to your name
Which courses you'll get to take with this program
Deadlines, prerequisites, and other key information you'll need