Alternative Careers for Registered Nurses: Finding Renewed Purpose
Over the past two years, perhaps no job has been more challenging than being a nurse. It's one of the most demanding careers: helping people overcome illnesses and injuries, communicating with families, working long shifts, and making important decisions every day with other people's health in your hands.
This has been especially true during the COVID-19 pandemic, in which hospitals were overfilled, nursing teams were understaffed, and the job was even more demanding. For all of the nursing professionals out there, we thank you and applaud you for your dedication, hard work, and unflinching commitment to helping those in need.
Given these extraordinary circumstances, it's easy to see why so many nursing professionals are feeling tired, overwhelmed, and burned out. If this is how to feel, you are not alone.
There are probably days when you feel like you've completely hit a wall and are thinking that almost any other career seems better than being a nurse. And who could blame you?
Before you start thinking about switching away from the nursing profession completely, however, think back to the reason that you became a nurse in the first place: your passion for helping people.
If you're feeling burned out, that's okay. You can find a new sense of purpose and renewed energy by pursuing other careers within the nursing profession. It's easier than you may think to make a change. Here's how.
Career Change Options for Nurses
A change of scenery can be a powerful thing.
What would it be like to be a nurse in a completely different setting, treating a different patient population, and administering a totally different type of care?
For example, being an Acute Care Nurse Practitioner in the ICU at a major hospital is very different from being a Family Nurse Practitioner at a small office, right?
If the idea of making a change like this excites you, then you're in the right place. Many options are available to nurses who feel drained and need a change but want to stay in the nursing profession.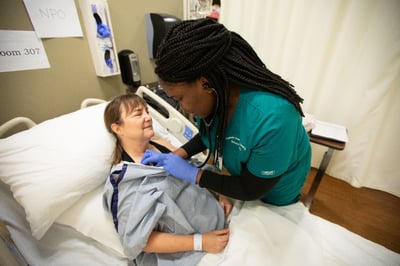 We encourage you to begin by thinking about what new career path excites you. You can explore the different types of nursing careers to figure out which fuels the fire within you. Maybe you want to try working in the school system. Maybe you'd love to get into teaching the next generation of nurses. Maybe you've always worked with an Adult/Gerontology patient population, and now caring for families is calling you.
Once you've decided which path you're called to, you'll need to figure out how to get there. Most likely, you'll need to earn an advanced nursing degree such as a Master of Science in Nursing (MSN) or a Doctor of Nursing Practice (DNP).
Even if you already have an advanced nursing degree, you may need to earn a Post-Master's Certificate so that you can learn the technical skills required for your new field. We recommend chatting with an admissions counselor to figure out what's needed and how you can achieve your career goals.
Check out the blog post – MSN vs. DNP: Exploring the Paths to Becoming an Acute Care Nurse Practitioner
Where Can Nurses Work Besides Hospitals
You don't need to work in a hospital setting to enjoy a fulfilling nursing career. Nurses are needed in many settings, including:
Skilled Nursing Facilities
Outpatient Settings
Physician Offices
Clinics
Insurance Companies
Government
Community Health
Elementary or Secondary Schools
Universities
Facility Healthcare
Most Common Career Changes for Nurses
Let's take a deeper look at nursing professionals who make career changes. Where do they end up? What type of work do they do? What does it take to get there?
The possibilities are nearly endless, but we'll explore three of the most common career paths you can pursue with an advanced nursing degree: nurse practitioner, nurse administrator, and nurse educator.
How to Become a Nurse Practitioner
If you're a nurse looking to make a change, then one avenue to consider is becoming a nurse practitioner. Nurse practitioners are leaders who have advanced skills and enjoy increased earning potential, new responsibilities, and the opportunity to specialize in new fields within nursing.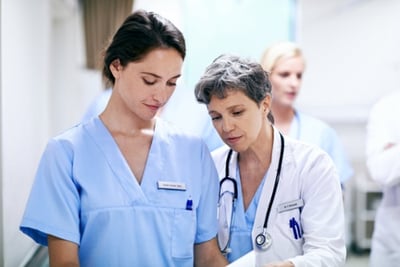 They continue to work directly with patients and typically specialize in one area to assess, diagnose, and treat patients. With lifestyle medicine, for example, nurse practitioners are trained to diagnose patients, prescribe medications, and create individualized treatment plans.
Rather than treatment, lifestyle medicine focuses on educating patients about healthy living habits, which include diet, exercise, sleep, and stress management.
To become a nurse practitioner, you'll need to earn an MSN or DNP. In each program, you'll get to select an area of emphasis, such as Acute Care—Adult/Gerontology, Primary Care–Adult/Gerontology, Primary Care—Psychiatric Mental Health, Primary Care—Family, and Lifestyle Medicine.
Depending on your location and area of expertise, you can expect to earn between $95,000 and $130,000 as a nurse practitioner.
The Path to Becoming a Nurse Administrator
The primary role of a nurse administrator is to assure quality patient outcomes within your organization. You'll have the opportunity to interact with patients and their families, support your team of nurses, and work with the leadership team to achieve organizational goals.
Nurse administrators oversee staffing schedules, manage budgets, ensure that accurate records are maintained, oversee projects, and help their team of nurses achieve their educational and professional goals.
To become a nurse administrator, you'll need to earn either an MSN or DNP and bring both nursing and business skills to the role. You can also earn a dual degree of MSN/MBA or DNP/MBA, in which the graduate program will prepare you for both sides of the business of healthcare.
Nurse administrators can expect to earn $118,880 on average.
Looking at a Career as a Nurse Educator
If you envision yourself in front of a classroom of passionate nursing students, then the nurse educator path may be for you. Think back to your educational journey as a nursing professional and all of the professors who inspired you and fueled your desire to be the best nurse you could be. Now, you'll have the chance to be that educator for others.
Nurse educators are prepared to teach the most up-to-date theories and practices in healthcare and are often respected mentors, even outside of the classroom.
To get started in a nurse educator role, you'll need to earn an MSN or DNP degree so that you can learn advanced practice nursing skills as well as take courses such as Nursing Curriculum Design, Classroom Instruction and Evaluation, and the Educator Role Practicum.
On average, nurse educators earn $84,060.
I Want to Leave Nursing. What Can I Do?
If you know in your heart that you're ready to move on from being a nurse, that's okay. There are plenty of career options to explore where you can utilize your skills and knowledge in another capacity.
For example, you could pursue a career as a physical therapist, a nutritionist, or a social worker, to name just a few. In these roles, you'd be able to apply some combination of your technical knowledge of healthcare, human anatomy, and patient treatment—not to mention the "soft" skills of patience, communication, organization, and compassion.
If you're considering changing from nursing to another career, weigh those options and think about what it is you're seeking. Do you love working with patients but want a change of pace? Would you like to pursue more of an administrative role? Would you like to influence change on a larger scale, rather than working with patients directly?
Whatever your goals are, the skills and experience you've learned thus far in your nursing career can help you get there.
Looking to change from nursing to another career? We'll help you weigh your options. Schedule some time to talk here.