MSN vs DNP: Two Paths to Becoming an Acute Care Nurse Practitioner
Are you a nurse interested in providing more advanced patient care?
Would you like to collaborate with other healthcare professionals to diagnose and treat acute, chronic, and critical conditions?
Do you want to learn why being a nurse practitioner was voted the best job in healthcare?
A senior nursing role such as an acute care nurse practitioner requires an advanced nursing degree—a master's at minimum. A nurse can take one of two traditional routes on the journey to becoming a nurse practitioner: earning a Master of Science in Nursing (MSN) or a Doctor of Nursing Practice (DNP).
But what are the differences between these two paths, and why would a nurse opt for one advanced degree over the other? Even more importantly, how can you know which is right for you?
What is an Acute Care Nurse Practitioner?
Acute care nurse practitioners, or ACNPs, provide advanced nursing care to patients who experience unexpected significant illnesses and injuries. This acute care can also extend to the treatment of chronic illnesses, diseases, severe trauma, rehabilitation, or recovery.
ACNPs have a broad range of specialized knowledge, skills, and training in advanced acute care practices such as cardiovascular and hemodynamic management, central line placement, X-ray and EKG interpretation, ventilation management, intubation, and chest tube insertion.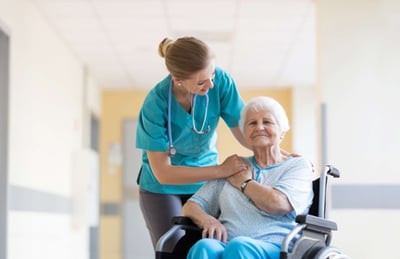 The particulars of the care ACNPs provide will depend on the patient population they serve and their healthcare setting. Typically, the workplace settings for ACNPs include:
Intensive care units
Emergency rooms
Hospitalist practice
Neurology, nephrology, cardiology offices, or other outpatient settings
Trauma care and rehabilitation
Acute care nurse practitioners have the opportunity to specialize in a specific patient population. For example, adult/gerontology nurse practitioners work with adult and elderly patients with acute medical conditions, multiple comorbidities, severe injuries, and preoperative or postoperative needs.
It takes a certain personality type to succeed in an ACNP role. You need to be able to thrive in a fast-paced, high-stakes environment that often has life-or-death implications. Not all nursing professionals are equipped to take on the level of increased responsibility and decision-making required of ACNPs.
With that advanced training and extra responsibility comes increased earning potential. Your salary will depend on whether you've earned an MSN or DNP (see the next section for more details), but on average, nursing professionals with an MSN earn $105,824. The typical acute care nurse practitioner's salary in the United States is $117,066.
The Difference Between an MSN and DNP and How to Know Which Path is Right for You
Generally speaking, there are two educational paths you can take to become an acute care nurse practitioner: earning an MSN or a DNP.
A Master of Science in Nursing will help RNs who have either an associate's or bachelor's degree become acute care nurse practitioners by training them in advanced patient care and case management.
On the other hand, a Doctor of Nursing Practice prepares nursing professionals for the above and more. DNPs have a broader focus of study, learning how to apply evidence-based care into clinical practice and studying the larger systems at work in healthcare, including the care outcomes of populations and communities.
Master of Science in Nursing
Enrolling in an MSN nursing program means that you're taking a powerful step in your journey as a nursing leader. You'll thrive in a rigorous academic curriculum, take part in clinical training, and learn from experienced educators—all of which will help you become the best nursing professional you can be.
Your core curriculum will include the foundational skills and techniques for being an advanced practice nursing professional, including healthcare policy, advanced pathophysiology, and advanced pharmacology.
Outside of acute care, MSN programs also offer specializations such as Nurse Educator, Primary Care–Family NP, Primary Care–Adult/Gerontology, Primary Care–Psychiatric Mental Health NP.
To graduate, you'll need to complete 50-55 credit hours of core curriculum and specialization classes. Many nursing professionals opt for this program since most BS-to-DNP programs typically require approximately 75 credit hours.
If you want to become an ACNP, for example, earning an MSN will teach you all of the skills that will prepare you for that role. Though your earning potential may not be quite as high as those with a DNP, MSN programs will get you there faster and require fewer credit hours.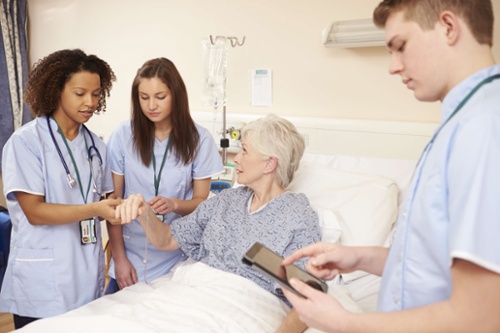 Doctor of Nursing Practice
What does it mean to be enrolled in a DNP program? What courses will you take? How long is a DNP program? How intensive is the curriculum?
Your experience will vary depending on which nursing school you're attending and your starting point. If you already have an MSN, then you have a head start when it comes to prerequisites, credits, and clinical experience. You can typically expect a requirement of between 40-55 credit hours, depending on your program and area of emphasis.
If you don't have an MSN yet, then you'll likely enroll in a BS to DNP program that's designed to help nurses earn a doctoral degree at an accelerated pace. In this case, you'll be required to complete somewhere around 75 credit hours.
The time it takes to complete a DNP program depends on how many courses you take each semester. Most advanced nursing programs offer flexibility to accommodate the busy schedules of nursing professionals and allow you to take classes at your own pace.
DNP programs are most often designed to teach a core curriculum that includes epidemiology and biostatistics, genetics and environment in disease, and other advanced nursing theories and techniques that will prepare you to deliver the highest level of patient care. On top of that, you'll get the chance to take courses in your selected area of emphasis, such as Acute Care–Adult/Gerontology, Primary Care–Family NP, Primary Care–Psychiatric Mental Health NP, or Nurse Educator.
DNPs also enjoy a high earning potential. Your actual DNP salary will depend on your area of emphasis, level of experience, and work setting, but DNPs in Tennessee typically earn around $109,014. Acute Care Nurse Practitioners with a DNP can expect to earn around $117,066.
Outside of preparing you for a career as an acute care nurse practitioner, either an MSN or a DNP equips you to pursue a career as a nurse administrator. Nurse administrators are responsible for quality patient outcomes and organizational goals.
To get an inside look at Southern's nursing programs, download The Complete Guide to Advanced Nursing Degrees at Southern Adventist University.
In this extensive eBook, you'll find:
Detailed insights into the MSN and DNP tracks including course curriculums, specializations, and career outlook
How you can apply your advanced nursing skills in roles such as Acute Care Nurse Practitioner, Mental Health Nurse Practitioner, Adult/Gerontology Nurse Practitioner, Nurse Administrator, and Nurse Educator
Nurses who've graduated from the program and are sharing their experiences
Key dates, deadlines, and prerequisites for applying to the program