To many nurses, being a nurse is more than a career—it's a calling. Nursing is a wonderful, challenging, rewarding way to help others when they need it most, and it takes a special kind of person to thrive in this type of role.
If you're currently an RN, you know what it takes to be successful and how to deliver patient care with compassion and understanding.
Have you thought about taking another step in your career?
If you're looking for ways to take on increased responsibility or explore new areas of specialization, then consider earning a Bachelor of Science in Nursing (BSN).
Let's explore the difference between an RN and BSN and how earning a BSN can take your nursing career to the next level.
What's the Difference Between RN and BSN Nursing?
The primary difference between the two is that a BSN is an educational degree, whereas an RN is a licensure or job certification.
Nurses with a BSN under their belt often open themselves to greater career opportunities and better patient outcomes. Here's a more detailed breakdown of the difference.
Level of Education
Obtaining an RN and BSN both involve going to school and passing requisite exams. However, the level of education required for each is quite different.
In order to become an RN, you must first obtain an associate's degree in nursing (ADN), pass your state board exam (NCLEX-RN), and complete the licensing requirements set in place by your state of employment.
To earn a BSN, on the other hand, you must complete a four-year nursing program at a college or university. Through this program, you'll learn much more about nursing theory and practice. And, you'll still need to pass the NCLEX.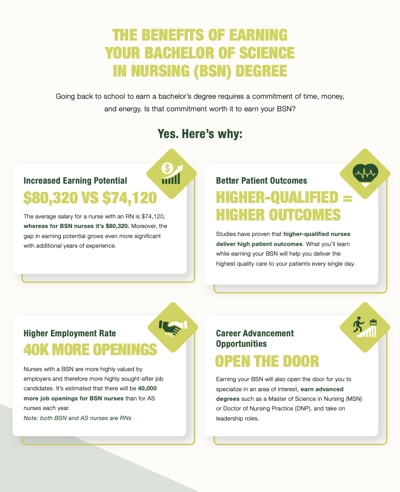 Patient Care
Earning a BSN helps nurses deliver higher levels of patient care. When you measure key factors such as length of stay, providing accurate diagnoses and evaluations, and mortality rates, nurses with a BSN perform much more effectively across the board.
If you're passionate about patient care and want to be the best possible version of yourself as a nursing professional, earning a BSN is a great place to start.
Earning Potential
BSN nurses usually earn more than a nurse with an RN licensure. On average, a nurse with a BSN degree earns $32.41 hourly on average. In comparison, an RN with an ADN makes $29.83 on average per hour.
On top of that, earning a BSN also opens more avenues for increased responsibility and higher-paying jobs as your career progresses.
BSN Career Path: What Are My Options?
We've talked about the fact that earning a BSN leads to more career opportunities. But what exactly are those opportunities, and how do you know which is right for you?
Say, for example, you are an RN working in primary care and you love what you do. Earning a BSN can help increase your changes of getting a raise or promotion so that you can take on increased responsibility while continuing to deliver exceptional patient care to your patients and their families.
On the other hand, if you're thinking about making a change, earning a BSN also enables you to take that next step. If you work in the ICU but want to make the switch to lifestyle medicine, completing your BSN degree makes you much more desirable to potential future employers and will help qualify you for new positions.
Whatever your career goals are, earning a BSN will help you get there. Within a BSN program, you'll have the opportunity to choose from different specialties, such as:
Adult/gerontology
Pediatrics
ICU
Primary care
Furthermore, earning a BSN is a great stepping stone toward earning an advanced nursing degree such as an MSN or DNP if you are interested in becoming a nurse educator, nurse administrator, nurse practitioner, etc.
The RN to BSN Program at Southern
Here at Southern, we're proud to prepare caring, competent, and compassionate nursing professionals who want to make a positive impact on the lives of their patients.
This flexible, affordable RN to BSN nursing program can help you take that next step in your career while balancing your studies with your personal and professional lives.
If you are thinking about earning your BSN, we'd love to connect with you. Visit our program page or schedule an appointment with an adviser and we'll help you map out your journey to success!